KEFWA Initiates yet another Partnership for Members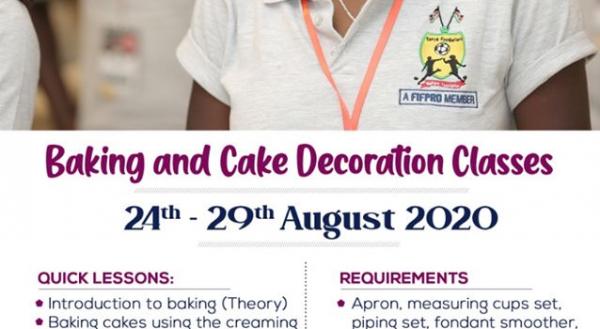 As players await commencement of  the Zetech University September blended learning courses –an institution we partnered with earlier this year,- we have partnered with yet another TVET college known as Bakers' club that will be offering short baking classes ; with the first cohort set to begin the training from Monday 24th-Saturday 29th August at the Buruburu Resource Center in Nairobi.
Speaking to Kefwamedia.com about the latest initiative, Kefwa Secretary General Jerry Santo expressed delight in the partnership citing that players who are not able to pursue Zetech courses, will not be locked out from acquiring other skills they may be interested in so as to compliment the small/large scale businesses they might want to venture in.  
Technical courses
"According to the KEFWA survey, more players showed interest in short technical courses. In response to that, we have partnered with Bakers Club, which is the beginning of many other partnerships we are looking to initiate so that our members acquire skills that will enable them set up their businesses after the training," Santo explained.
On the other hand, Bakers' Club founder Lucy Wanjiku is excited about the partnership and assures that all is set in readiness for the classes.
"I am looking forward to start the training with the football players since they are a special group comprising of active young people. We will be providing all the ingredients and everything they will need for the training.  Since we are starting, I am open to train more players should they express interest," Wanjiku said.
Six players
Meanwhile, KEFWA Education officer and former Gor Mahia FC forward Dan Makori also added his voice on the training that will comprise Kibera Girls Soccer Academy FC player Dorcas Victorina Okwomo, Tusker FC duo Kevin "Ade" Omondi and Chris Ochieng as well as Makolanders trio Anne Apondi,  Carolyne Omondi and Christine Nafula.
"We are glad to have partnered with Bakers' Club as we look to have players' who are interested in learning how to make pastries get the best training. We start with six players in the first cohort, and we will be adding more interested members as we roll it out in stages," Makori said.
For months now, KEFWA has been running an initiative dubbed #MindTheGap aimed at empowering members to start projects, businesses or even learn a skill by going back to school in order to have second careers. As such, this training will go a long way in positively impacting the lives of our members as they prepare for life after football.